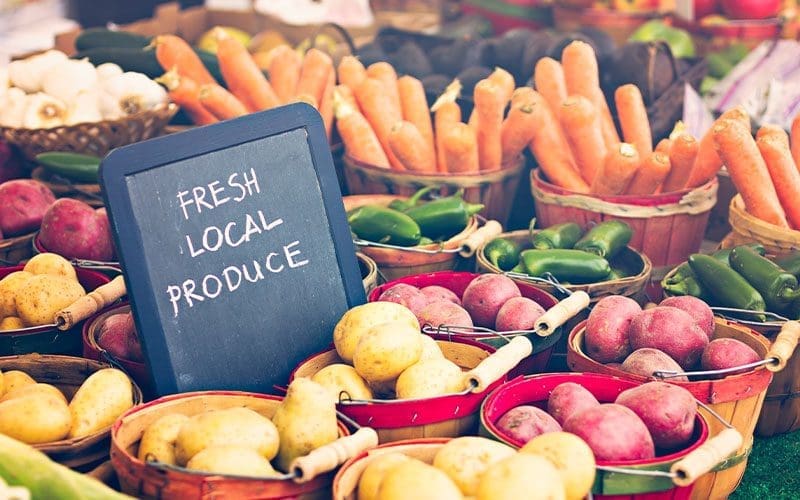 Published: June 26, 2019
Farmer's Markets and Community Supported Agriculture
One of the greatest, yet often underutilized and underappreciated pleasures of spring/summer, is fresh local produce. Farmer's markets and community supported agriculture provide a variety of fresh, nutrient-dense vegetation and other food items to help you and your family support a healthy lifestyle. If you've never participated, imagine red-colored strawberries, crispy green beans, freshly-baked breads, and eggs that were just laid the day prior. Oftentimes you'll even stumble upon produce you've never tried before, such as salmon berries or black raspberries.
Farmer's markets are great for children to encourage them to be more involved in their diet choices. Allow them to choose among the different colors and textures and be sure to include them in safe food preparation in the kitchen – like making a yogurt based fruit dip from the quart of berries they selected. Locally grown produce is also a great way to introduce a new healthy food choice to your child, or even yourself! This produce has been ripened fully in the field so it's bursting with color and flavor. Meeting with your local food producer can give you and your children further insight and understanding as to how these foods are grown and harvested before ending up on your dinner table. Additional benefits for you is the cost savings. Eating healthy can get expensive without careful planning and these markets are generally low cost. Many markets also accept WIC coupons and SNAP benefits to help you stay within your budget while eating right.
If you don't have the time or transportation to regularly visit a farmer's market, community supported agriculture (CSAs) may be a good alternative. CSAs are simple programs where you can "subscribe" to a membership by purchasing a small share of a participating farm. In exchange you receive a weekly variety box or basket of produce from a farm near your home. Some programs allow a personalized selection of weekly items and others include more than produce, such as eggs, bread, meat, and cheese.
Choosing to get involved with a CSA has a variety of benefits for both the farmer and consumer, as well as the community. Consumer benefits include trying new healthy food choices, encouragement to eat more vegetables, greater nutritional benefits than most grocery store produce, and less time spent driving/grocery shopping. The farmers are able to associate with the people in the community that are supporting their livelihood and consumers can share mutual appreciation which creates a stronger community. Farmers also benefit because they can market and receive payment for their crops.
Choose to do something great this season and make use of these wonderful resources.
To find a list of local farmer's markets and CSA programs, visit the Local Harvest website.
To see a list of what's in season near you, visit the Seasonal Food Guide website.