You Can Trust Your Heart in Our Hands.
We offer the latest in advanced heart and vascular care with a team of expert cardiologists using state-of-the-art technology and leading techniques. Our team of general and interventional cardiologists have a passion for preventing, managing, and treating heart attacks, cardiovascular diseases, and other heart-related conditions.
Whether you're in need of preventative care or emergency treatment, every patient that walks through our doors is treated with the highest quality of care and compassion. We provide individualized treatment plans and offer a wide range of services to help you achieve better heart health. From diagnostic testing, advanced imaging, and minimally-invasive procedures to cardiac rehabilitation, we make taking care of your heart easier than ever.
Some of the common conditions treated by our cardiologists are:
Adult Congenital Heart Disease (ACHD)
Blood Clot to Lung (Pulmonary Embolus)
Coronary Artery Disease
Heart Attacks
Heart Valve Disease
High Blood Pressure
High Cholesterol
Irregular Heartbeat (Arrhythmia)
Peripheral Artery Disease
Plaque Build-up in Blood Vessels (Atherosclerosis)
Protecting Your Heart
With a few simple lifestyle changes, you can be on your way to better heart health. Here are some healthy habits that will help lower your risk of heart disease.
Eat a Healthy Diet
Eat plenty of fresh fruits and vegetables and avoid processed foods. Choose foods high in fiber and limit salt and sugar intake.
Maintain a Healthy Weight
Your health care provider can calculate your body mass index (BMI) and help set you on a path toward a healthy weight.
Be Physically Active
Get 2.5 hours of moderate-intensity exercise, such as brisk walking or bicycling, each week. That's only 20 minutes a day!
Don't Smoke
If you're not a smoker, don't start. If you are a smoker, quit. Call the Medication Management Center at 567-307-7919 to enroll in our Tobacco Quit Program today.
Limit Alcohol Consumption
Drinking too much alcohol can raise your blood pressure. Men: 2 drinks or less per day. Women: 1 drink or less per day.
Manage Other Medical Conditions
If you have high cholesterol, high blood pressure, diabetes, or a family history of heart disease, follow your health care provider's instructions.
For more information on heart healthy habits, read this article on maintaining good heart health.
Tests
Our Cardiology Department offers a variety of diagnostic testing for both inpatients and outpatients. Tests ordered by your doctor must be scheduled. Tests we perform include:
EKG
An EKG is a test to determine the electric activity of your heart. Twelve leads are connected to your chest, arms, and legs via stickers (electrodes) to obtain the information needed.
Holter Monitor
Holter Monitoring is a continuous recording of your EKG, usually for 24 hours, while you go about your daily activities.
The holter monitor is a small portable tape recorder worn on a strap near the shoulder or around the wrist. Several electrodes are placed on your chest and connected by wires to the recorder. Your EKG is recorded and printed out. You'll keep a diary to enter your activities and any symptoms you experience and the times they occurred. This allows doctors to detect any abnormalities and compare them to activities and symptoms.
Holter Monitoring is very safe and has no risk involved. It is only a minimal inconvenience to carry the recorder.
Stress Test
The stress test is done while you walk on a treadmill. During the test, an EKG records the electrical activity of your heart. A trained technician (or nurse) will place several electrodes on your chest and shoulders. The electrodes are connected by wires to an EKG machine with a monitor. A blood pressure cuff is applied to your arm to monitor your blood pressure. You will be shown how to step onto the treadmill and how to use support rails to maintain balance. The treadmill starts slowly and the speed and incline are gradually increased. Your blood pressure will be checked every few minutes and your EKG tracing watched for any abnormal changes. You will be asked to report any symptoms such as chest pain, shortness of breath, leg fatigue, or dizziness. The test will end when you become too tired, have significant symptoms (such as shortness of breath) or when you reach your peak heart rate.
Echocardiogram
An echocardiogram is a picture of the heart's movement. During an echocardiogram, three electrodes will be placed on your chest – these are attached to an electrocardiograph (EKG) monitor that charts your heart's electrical activity during the test. A sonographer will place a hand-held wand on your chest to get an ultrasound of your heart in order to evaluate its pumping function.
Event Recorder
An event recorder is a portable device used to record your heart's electrical activity during symptoms as you go about your daily routine. If you have fast, slow, or irregular heartbeats (arrhythmias), your doctor may ask you to wear an event recorder.
Procedures
We treat a wide variety of cardiac diseases using advanced techniques and procedures. Some of the procedures we perform are:
Cardiac Catheterization – a procedure used to diagnose and treat heart and vascular conditions
Balloon Angioplasty – using a catheter, a tiny balloon is guided through the artery and inflated to widen the opening and increase blood flow
Stent Placement – placed using a balloon angioplasty, the stent (a metal mesh tube) expands and locks into place inside the artery
Angiograms – a diagnostic test using x-rays to take pictures of the heart
Aortic Aneurysm Repairs – surgery to repair a widened area in the aorta
Plaque Removal (Atherectomy) – a minimally invasive surgery to remove plaque from the blood vessels
Blood Clot Removal (Thrombectomy) – an interventional procedure to remove a blood clot from the blood vessel
Inferior Vena Cava (IVC) Filter Placement & Retrieval – a small device placed in your IVC to prevent blood clots from moving into the lungs
Implantable Cardioverter Defibrillator (ICD) Implantation – a minimally invasive procedure to place a small device under the skin of the chest to monitor heart rhythm and detect irregular heartbeats
Pacemaker Implantation – a minimally invasive procedure to place a small device under the skin of the chest to manage heart rhythm disorders
Heart Rhythm Monitor Implantation – a minimally invasive procedure to place a small device under the skin of the chest to monitor your heart's rhythm for up to 36 months
Avita Heart Cardiac Device Clinic
Our team specializes in the implantation and long-term monitoring of your cardiac device, including pacemakers, heart rhythm monitors, and implantable cardioverter defibrillators. All of our cardiac devices are surgically implanted at Avita Ontario Hospital, keeping advanced heart care close to home.
Cardiac devices are often needed to control irregularities caused by the heart's electrical system, such as irregular heartbeat and heart rhythm disorders. After your cardiac device is implanted, we perform regular check-ups to ensure it's working properly. We monitor the battery status and review the stored cardiac information every one to three months after your initial appointment. In some cases, we can perform a check-up on your cardiac device from the comfort of your house using home monitoring equipment.
At the Avita Heart Cardiac Device Clinic, we utilize multiple types of cardiac devices, including pacemakers, heart rhythm monitors, and implantable cardioverter defibrillators (ICDs). We now implant Micra™ Pacemakers, too! The Micra™ Transcatheter Pacing System (TPS) is the world's smallest pacemaker. It's implanted directly into the heart without wire leads. To learn more about these devices, read about cardiac devices in our health library.
Contact Information
Avita Heart Cardiac Device Clinic
715 Richland Mall, Ontario, OH 44906
Phone: 419-462-4600
Fax: 419-462-4609
Hours of Operation
Monday – Friday: 8:00am – 4:00pm
Closed weekends and all major holidays
Emergency Heart Attack Care
During a STEMI (heart attack), a short time to treatment is vital. With a 24/7 heart attack alert team and level II cardiac cath labs at Galion and Ontario Hospitals, our teams perform diagnostic testing and procedures that can save lives. Numerous clinical studies have shown that the quicker the blood flow is restored to the heart, the lesser the chance of death and reduced long-term disability.
What is a STEMI?
A STEMI is a full-blown heart attack that is caused by the complete blockage of an artery of the heart. STEMI stands for ST elevation Myocardial Infarction. ST elevation refers to a particular pattern on an EKG heart tracing and myocardial infarction is the medical term for heart attack.
3 Types of ACS
A STEMI is one of three types of acute coronary syndrome (ACS). ACS occurs when plaque ruptures in a coronary artery, causing a partial or complete obstruction (blood clot) of the artery.
STEMI – Complete obstruction of a coronary artery. This results in death of the heart muscle resulting in a STEMI. This is the worst form of ACS.
NSTEMI – Partial obstructions of a coronary artery. This is known as NSTEMI (non ST elevation myocardial infarction). There will be some death of the heart muscle, but since there is partial blood flow it is less than a STEMI.
Unstable Angina – Sometimes clots will form, dissolve, reform, and continue this over hours, days, weeks, or months. This is called unstable angina. Typically someone suffering from unstable angina will have on and off chest pain.
Treating a Heart Attack
Once you are placed on a cardiac monitor (at the ER or by the EMS), the STEMI will be recognized and our heart attack alert team will be activated to provide immediate intervention.
Once in the cardiac cath lab, you will have a diagnostic angiogram to determine where the blockage is and how it should be treated. If indicated, immediate ballooning and/or stenting of the vessel will occur. This will open the vessel and restore blood flow to the part of the heart that is not receiving oxygenated blood.
Know the Signs
If you think you are or someone you know is having the following symptoms, call 9-1-1 immediately. Time saves lives.
Signs of a Heart Attack
Chest discomfort or pain
Shortness of breath
Cold sweats
Lightheadedness, nausea, or vomiting
Jaw, neck, or back pain
What is Cardiac Rehabilitation?
The Cardiac Rehabilitation Program involves exercise approved by a physician and supervised by trained
professional staff. In addition, education is provided that focuses on risk factor modification.
Cardiac Rehabilitation is medically prescribed and designed to help heart patients reach their full functional potential and live an active lifestyle.
Who Needs Cardiac Rehabilitation?
Patients recovering from a heart attack, heart surgery, heart transplant, chronic heart failure, angioplasty/PCI, or angina should be a part of a cardiac rehabilitation program. In addition, anyone
at risk for developing heart disease can benefit from a team approach to exercise and education.
How Will Rehab Help?
Studies confirm that heart patients who participate in a supervised rehabilitation program recover
more quickly, have fewer hospital admissions, and may have a reduced incidence of additional heart
problems.
What is the Cost?
The cost varies based on the program prescribed by your physician and your insurance coverage. Many
health insurance companies as well as Medicare will cover part or all of the cost for Phase II cardiac rehab. The cardiac rehab staff will assist you with insurance verification prior to beginning the program. You may also contact your health insurance company to confirm your coverage and benefits.
Phases of Cardiac Rehabilitation
Phase I
Inpatient therapy during your hospital stay
Includes education and discharge planning
Phase II
Outpatient therapy lasting up to 12 weeks
A physician order is required with a qualifying diagnosis
Exercise sessions scheduled up to three times weekly
Individual education on risk factor modification including diet, exercise, stress management, blood
pressure, etc.
Phase III
Outpatient maintenance program
Available three times weekly at each cardiac rehab location with a physician's order
Continued emphasis on regular exercise and a heart healthy lifestyle
How to Join the Cardiac Rehabilitation Program
Call the Cardiac Rehab Department:
BUCYRUS CARDIOPULMONARY REHAB
419-563-9317
629 N Sandusky Ave, Bucyrus
GALION CARDIOPULMONARY REHAB
419-468-0753
269 Portland Way S, Galion
ONTARIO CARDIOPULMONARY REHAB
567-307-7845
715 Richland Mall, Ontario
If the staff is unavailable, please leave a message and your call will be returned promptly. You will
then be scheduled for a one-on-one consultation during which your questions will be answered.
What is a Cath Lab?
A cardiac catheterization lab, also known as a cath lab, is a sterile room in the hospital where specially trained doctors perform minimally invasive procedures to diagnose and treat cardiovascular disease, including heart attacks. There are three levels of accreditation a cath lab can achieve, which determines the level of care a patient can receive.
Level I Cath Lab – The hospital can diagnose and stabilize a patient with heart and vascular disease, such as a heart attack, and prepare them for transport to a facility that can perform life-saving procedures.
Level II Cath Lab – The hospital can perform minimally invasive, catheter-based procedures to diagnose and treat heart and vascular disease, such as heart attacks.
Level III Cath Lab – The hospital can perform open heart surgery.
Who Works in a Cath Lab?
Interventional Cardiologists are specially trained heart doctors who perform catheter-based procedures in order to diagnose and treat heart and vascular disease.
Cath Lab Nurses are closely involved in the care of patients from the time they arrive for their procedure to the time they are discharged.
Cath Lab Technologists assist the interventional cardiologist with the procedure.
Both the cath lab nurses and technologists keep an eye on the patient's condition during and after the procedure and will notify the cardiologist of any changes.
Patient Stories
Pastor Ash
August 14th began as a normal day for Pastor Ash. He ran errands, answered emails, and completed paperwork for an upcoming conference. He was on his way to a lunch meeting when he started to feel a tightness in his chest. Having a previous encounter with open heart surgery, Pastor Ash knew the symptoms of a heart attack all too well. Being only minutes from Galion Hospital, he turned his car around and drove straight to the emergency department.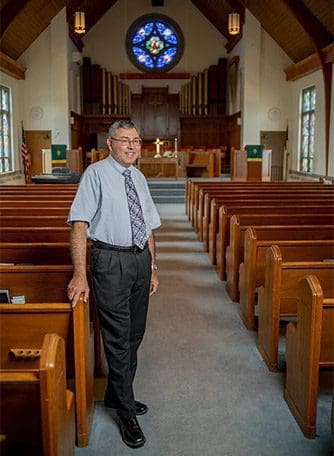 Walking into the hospital with urgency, Pastor Ash announced to the registration staff that he was having a heart attack. A nurse came quickly with a wheelchair and took him into an exam room. Within seconds, a "Cardiac Alert" was called over the intercom. Doctors, nurses, and techs filled the room. According to Ash, "one shaved my chest, one connected a portable EKG, and then a call went out to the cardiac catheterization lab, who sent a team STAT."
Pastor Ash was wheeled from the emergency department to the cath lab and within minutes, his heart stopped once and then a second time. He was resuscitated through defibrillation. Once Ash's heart started beating again, Dr. Joseph Mayo, Dr. Michael Davis, and Dr. Mohamad Saab were confronted with the difficult task of repairing the blocked vessel that was preventing blood from flowing to the heart. The procedure lasted several hours. While the team had collectively performed tens of thousands of heart interventions throughout their careers, this was their first case at Galion Hospital.
Galion Hospital had just opened its Level II Cath Lab at 8:00am that morning. Pastor Ash was the first patient. "If it weren't for that moment in time, I don't think my life would have been saved," explained Pastor Ash. "If the heart attack had happened the day before, I probably would have died. My family and I really appreciate the care that Avita provided to save my life and bring me quickly back into functioning."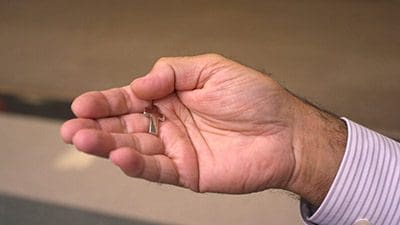 After his procedures, Pastor Ash recovered in Galion Hospital's intensive care unit. He was released from the hospital a few days later and is participating in Avita's cardiac rehab program, right down the hall from the cath lab where his life was saved. Pastor Ash is back to doing the things he loves, including his pastoral duties with church and community, spending time with his wife, Peg, and their grandchildren, and riding his bike.
"God's not done with me yet. God gets all the glory, and Dr. Mayo and his team get all the credit for doing what was humanly possible – the medical miracles!"