The Avita Pediatric Therapy Center is a specialized outpatient clinic dedicated to providing high-quality therapy services to children with special needs. We work with children of all ages ranging from birth through age 22. The therapists and staff at the Pediatric Therapy Center are committed to providing comprehensive, multidisciplinary care in an environment where children can achieve their goals and reach their full potential.
The Pediatric Therapy Center team includes licensed occupational therapists, occupational therapy assistants, physical therapists, physical therapy assistants, and speech-language pathologists who work closely together to create individualized treatment plans. Therapy is carried out in an atmosphere focused on creativity and imagination, where every child can be successful. We strive to provide a variety of skilled therapy services for children in order to serve as a resource for all families in the community.
Please call our main office at 419-468-0570 if you have any questions or are unsure if your child would benefit from our services.
Pediatric Occupational Therapy
We provide specialized evaluation and treatment for children who have difficulties with fine motor skills, visual perception skills, and sensory-processing deficits. Avita's pediatric occupational therapy program is client-centered and play-based, incorporating the family's goals to help the child achieve the highest level of function capable.
Reasons for a referral to pediatric occupational therapy may include:
Autism spectrum disorder
Brachial plexus injury
Cognitive delay
Developmental delay
Handwriting difficulties
Hand injury
Life skills training
Perceptual difficulties
Sensory processing disorder
Traumatic brain injury
Pediatric Physical Therapy
We provide specialized evaluation and treatment to children of all ages, who have difficulties, delays, or deficits with motor function, balance, coordination, strength, posture, flexibility, and/or mobility. Therapy activities are designed to help children build coordination and control, improve movement and motor function, and support skills needed to complete daily activities.
Reasons for a referral to pediatric physical therapy may include:
Developmental delay
Motor skill delay or disorders
Walking disorders
Mobility disorders
Injuries
Clumsiness
Weakness
Torticollis
Mis-shaped head in infants
Premature birth
Flexibility limitations
Scoliosis or other posture concerns
Pain syndromes
Pediatric Speech Therapy
We provide specialized evaluation and treatment for children who have speech, language, voice, fluency, and/or oral feeding/swallowing disorders. The goal of traditional speech therapy is to improve skills that will allow your child to communicate more effectively. Our feeding therapists improve oral motor skills and swallowing function and safety.
Reasons for a referral to pediatric speech therapy may include:
Oral motor feeding/swallowing disorders
Receptive & expressive language disorders
Articulation disorders
Apraxia of speech
Fluency disorders, including stuttering
Voice and resonance disorders
Reading and written language disorders, including dyslexia
Traumatic brain injuries
Social pragmatic communication disorders
Augmentative/Alternative communication (AAC), including speech generating devices
Hearing impairment or cochlear implant
Autism spectrum disorders
Craniofacial anomalies, such as cleft lip or palate
Meet the Team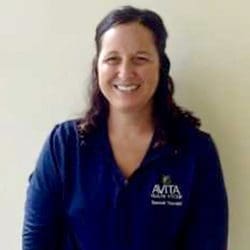 Programs & Services
Our specially trained therapists offer individualized services in convenient, close to home locations.
We offer intervention for various diagnoses including dyslexia, dysphagia, torticollis, toe walking, cerebral palsy, head injuries, sensory integration disorders and more. For children with swallowing disorders, our trained speech-language pathologists complete modified barium swallow studies at our Galion and Ontario locations.
Programs Offered:
Aquatics Program
Avita Pediatric Therapy Center offers aquatic therapy for children needing occupational, physical, and speech-language therapy. Aquatic therapy uses the natural buoyancy of water to facilitate movement. Children participating in aquatic therapy benefit from the physical properties of water, aiding in healing, increased the range of motion, strength, and endurance. Aquatic therapy offers a motivating setting to build speech and language skills and increase social interactions.
Baby Groups
Baby groups at Avita Pediatric Therapy Center are designed to meet the unique needs of infants with various types of conditions that cause them to need feeding/swallow therapy, physical therapy, occupational therapy, or speech therapy. These groups allow for infants to participate in individual services by appropriate, specialized therapists. The group setting supports a low-intensity atmosphere for the infant and family while giving parents/caregivers access to high levels of expertise. Therapists may choose to co-treat infants in order to better meet the needs of the baby or to take turns seeing a child individually. The flexible group environment allows the baby to take rests from therapy between services, or to engage in play or practice of newly introduced activities. It also allows parents to interact and learn from each other, and to practice home activities with therapist feedback. Parents and infants enjoy a family-friendly environment of support and encouragement.
C3 Teens
C3 Teens is a functional, therapeutic, hands-on learning group designed specifically for teens with social language deficits. C3 Teens seeks to teach teens essential social skills necessary for transition to the workplace or further education within a functional context. It is the goal of C3 Teens that all teens involved become vocationally competent, socially confident, compassionate members of their community.
Seasonal Programs
Seasonal themed programs are offered throughout the year at Avita Pediatric Therapy Center. These programs include speech-language, physical and occupational therapies in small group settings for children of all ages. Past programs have included a gingerbread house with crafts and treats and a Trick-or-Treating event where children wore costumes and participated in games and crafts. Seasonal programs offer the opportunity to build valuable speech-language and other therapy skills while "practicing" these skills with peers in a play-centered environment. All groups are facilitated by licensed therapists.
Social Skills Groups
Various social groups are available throughout the year at our pediatric therapy center. These groups are focused on increasing social skills utilizing hands-on and naturalistic interventions. Social skills groups are available for all ages and across the range of language abilities. These groups are specifically designed to increase social thinking and develop social problem-solving skills. It is their ultimate goal to increase social confidence and independence across home, school, and community settings.
Summer Programming
Structured group programs are offered during the summer months at our pediatric therapy center. These groups include gross motor, fine motor, sensory, speech-language, and socialization activities for many children who may benefit from receiving intervention in a group setting. Summer groups often include inside and outside play, story time, crafts, snacks, and games, while still addressing individual short and long term treatment goals.