Caring for Women at Every Stage of Life
Pelvic and reproductive health are important parts of every woman's health care journey. From menstruation and pregnancy to menopause and beyond, there are many reasons to turn to an OB/GYN for care. At Avita Health System, we provide women's health services with compassion and skill, using leading technology. Our trusted team of OB/GYN experts are here for you through every stage of life.
Our women's health services include:
Obstetrics (Maternity)
Gynecology
Breast health
Midlife care
Pelvic health
In addition to our physician services and diagnostic testing, we offer education and support groups for breastfeeding mothers, as well as child birthing classes for expectant mothers and their partners. Check out the full list of classes on our Education and Support Group page.
Obstetrics & Gynecology
At Avita, we understand that choosing an OB/GYN is a personal decision. We are committed to treating every woman with compassion and professionalism. You can expect individualized medical guidance with skill and attention to detail from all of our OB/GYNs. Whether you're just beginning your menstrual cycle, starting a family, going through menopause, or fighting breast cancer, our team of OB/GYN specialists are with you every step of the way.
Our OB/GYN services include:
Gynecological screenings (PAP smear, STD testing)
Immunizations
Pelvic exams
Breast exams
Gynecological surgery (including robotic surgery options)
Prenatal care
Labor and delivery
Postpartum Care
Treatment for menopausal conditions
Treatment for pelvic floor conditions
Treatment for incontinence
Ultrasound
Labor & Delivery
Bringing a new life into the world is a special, joyous occasion. At Avita, we want moms to have the best possible birthing experience. Our experienced team of doctors, nurses, and support staff, including a lactation consultant for breastfeeding support, provide expert and compassionate care with the most advanced technologies so you can focus on what matters the most ­– your new baby.
LDRP Unit at Ontario Hospital
Avita offers labor and delivery services at Ontario Hospital with the only state-of-the-art Labor, Delivery, Recovery, and Postpartum (LDRP) unit in the region. Newly opened in 2022, these fully equipped suites offer a comfortable birthing experience for mom and baby.
Ontario Hospital's LDRP unit has 11 suites, 2 triage rooms, 2 operating rooms, and a nursery. The LDRP suites are spacious, with over 400 square feet of brand-new amenities! In most maternity units, labor and delivery occur in one room while recovery and postpartum care is in a separate room. With LDRP suites, you labor, deliver, recover, and receive postpartum care all in the same room, and your baby stays with you until you're ready to go home. LDRP suites create a unique birthing experience that combines the comforts of home with the safety of a hospital.
The Birth Place at Galion Hospital
Avita's maternity unit at Galion Hospital has been "The Birth Place" for babies in Crawford County and the surrounding area since 1941. Generations of new moms have trusted us to provide a birthing experience with the highest level of expertise and compassion. In 2015, The Birth Place was fully renovated to include advanced security features and modern comforts.
We understand quality service is an important aspect of patient care. With a long history of providing exceptional care, which includes a commitment to continuous improvement and the highest standards, our OB/GYN physicians and maternity care team are dedicated to making sure you have a safe and healthy delivery. Achievements made by Galion Hospital's maternity care team include:
5-star recognition as part of the Ohio First Steps for Healthy Babies initiative, which awards hospitals for taking steps to promote, protect, and support breastfeeding
Joined Lifeline of Ohio's Placenta Donation program, receiving numerous donations from new moms which have helped heal up to 250 people
Three OB nurse winners of the Daisy Award for Extraordinary Nurses®
One winner of the Avita Health Foundation's Esteemed Physician Award
Over 65 years of combined experience from Avita's OB/GYN physicians at Galion Hospital
New Baby Resources
Galion Hospital
OB Unit
419-468-0910
Lactation Office
419-468-0563
Deanna Grube, BS, IBCLC
Ontario Hospital
OB Unit
567-247-0800
Lactation Office
567-247-0820
Wendy Broadhead, BA, IBCLC, CBS
Community Services
Crawford County
CONTACT Crawford County
Referral Line
Bucyrus – 419-562-9010
Galion – 419-468-9081
Crawford County Public Health
1520 Isaac Beal Rd, Bucyrus
419-562-4667 • crawfordhealth.org
Galion City Health Dept.
113 Harding Way East, Galion
419-468-1075 • galionhealth.org
Help Me Grow Bucyrus
1520 Isaac Beal Rd, Bucyrus
419-562-4667
Voice of Hope
115 West Rensselear St., Bucyrus
419-562-2274 or 1-800-712-4357
www.voiceofhopepc.org
Outpatient Pediatric Speech
419-468-0547 option 1
Outpatient Audiology Services
419-468-0547
Richland County
Catalyst Life Services
Crisis Line – 419-522-4357
First Call
Referral Line – 1-877-795-2111
Help Me Grow Mansfield
455 Bowman St., Mansfield
419-524-2660
Richland Pregnancy Services
1560 West 4th St., Mansfield
419-522-8862 • richlandpregnancy.com
Richland Public Health
555 Lexington Ave., Mansfield
419-774-4500 • richlandhealth.org
Outpatient Audiology Services
419-775-1091 option 3
Ohio 24-Hour Toll-Free Hotline
888-588-3423 or text BFHOTLINE to 839863
appalachianbreastfeedingnetwork.org
Virtual Consultations, Sign Language, and Interpreters available
Infant Risk Center at Texas Tech University
Medication Exposure Helpline – M-F, 9-6pm
1-806-352-2519
Researched information regarding safety of medications while breastfeeding.
Natural Beginnings Lactation Services
Deanna Grube, BS, IBCLC
419-529-9670
Breast Pump Rental, Sales and Supplies, Breastfeeding Consultations – Private Pay
Breastfeeding Support for Pregnant & New Moms (Free)
To register, call 419-468-0910 or fill out our registration form on our Education & Support Groups page.
Breastfeeding Classes
Get tips for breastfeeding! We encourage your partner, family, babysitter, or friend to join us. Topics will include what to expect in the first few weeks, good attachment and positioning techniques, common breastfeeding difficulties, practical support by partner, family and friends, your career and breastfeeding, and much more. Get more details on our Education and Support Groups page!
Sprouts Support Group
Get questions answered and meet other moms and babies! Many new and soon-to-be new moms have questions about breastfeeding which include, what to expect in the first few weeks and beyond, common breastfeeding difficulties, and your career and breastfeeding. Get more details on our Education and Support Groups page!
La Leche League
Crawford County
No meetings available
Charmaine: 419-562-8850
char_mom16@hotmail.com
FB: La Leche League of Crawford County
Richland County
Meets the second Tuesday of every month 6:30-8:00pm at Grace Episcopal Church, 41 Bowman St, Mansfield.
Brooke: 419-989-5975
Jennifer: 440-315-7492
Email: lllofrichlandcountyohio@gmail.com
Breast Pump Suppliers
Insurance Pump
1naturalway.com – Breast pump comparison
888-977-2229
www.mommyxpress.com
844-641-2255
Hospital Grade Rental Pumps
Natural Beginnings (self-pay)
419-529-9670
Women's Boutique Riverside Hospital
614-566-5353
W.I.C. (Women, Infants, & Children) Programs
Crawford County
1520 Isaac Beal Rd, Bucyrus
Deanna Grube BS, IBCLC
Holly Kozinski, Breastfeeding Peer
419-562-5859
crawfordhealth.org/wic
Marion County
181 South Main St., Marion
Dorothy Spears, Breastfeeding Peer
740-383-5533
marionpublichealth.org/wic
Morrow County
619 West Marion Rd., Suite B, Mt. Gilead
Margo Dixon, Breastfeeding Peer
419-947-8010
delawarehealth.org/wic
Richland County
555 Lexington Ave, Mansfield
Vicky Boyd, RDLD, BS, IBCLC
419-774-4560
richlandhealth.org/departments/wic
Wyandot County
127 S Sandusky Ave #A, Upper Sandusky
419-294-3341
wyandothealth.com/wic
Additional Resources
Getting Started with Breastfeeding
General Breastfeeding Guidance
Supporting Milk Supply
Proper Positioning and Latch
Therapeutic Breast Massage to manage milk production, engorgement, plugged ducts, and mastitis
Managing Low Milk Supply
Paced Bottle Feeding
Formula Prep
Working and Pumping
Breastmilk Donation
Breast Health
We offer advanced diagnostic screenings and treatment options to help you maintain healthy breasts. Whether you're seeking a preventative screening or have concerns about breast lumps or pain, we provide caring services using the leading technology. Our breast health services include 3D mammography, 3D-guided stereotactic breast biopsy, breast surgery, and breast cancer rehabilitation.
3D Mammography
3D mammography is an advanced imaging test that captures multiple images from different angles. These digital images are then reconstructed or "synthesized" into a set of three-dimensional images by a computer. This gives a clear picture of the breast, even those with dense tissue. A 3D image makes it easier for doctors to catch breast cancer early. It also reduces the chance of a false positive reading and being called back for an additional screening. We offer 3D mammography at Bucyrus, Galion, and Ontario Hospitals.
The 3D exam provides better, earlier breast cancer detection, compared to 2D alone. Greater accuracy means greater breast cancer detection, and a reduced chance of additional imaging. This benefit, alone, spares patients the emotional, pragmatic, and economic burdens of additional diagnostic evaluations, including biopsies. The speed of acquiring the image is beneficial as well. The minimized exam, means less discomfort and reduces the chances for motion artifact. This increased comfort can help reduce unpleasantness during the exam.
Avita's 3D mammography technology gives patients a more accurate exam. Radiologists are able to more accurately screen, triage to biopsy, or dismiss a potential false positive for women of different ages and breast densities. With this new technology, fine details are more visible and not hidden by the tissue above or below. Early detection is important. When breast cancer is found early, the five year survival rate is greatly improved.
To schedule your mammogram, call 419-462-3310.
3D-Guided Stereotactic Breast Biopsy
Women who receive an abnormal mammogram may now benefit from a 3D-guided stereotactic breast biopsy. This is an accurate and efficient image-guided procedure that is less invasive than the traditional surgical alternative to retrieve samples of tissue for examination.
Breast Surgery
We offer a variety of breast surgery options. If your breast biopsy shows abnormal results, we have a team of general surgeons to help put your mind at ease. They are experts at removing abnormal tissue, tumors, and cancer. Whether you require a lumpectomy or mastectomy, they bring experience and compassion when you need it the most.
We also offer plastic and reconstructive surgery, including breast reconstruction after lumpectomy or mastectomy, as well as breast reduction, augmentation (implants), and breast lifts.
Breast Cancer Rehabilitation
Our rehabilitation team recognizes and understands that a breast cancer diagnosis can present several physical and emotional challenges to you and your caregiver(s). You may have difficulty engaging in typical daily activities, work, home management, and recreational activities.
Participating in rehabilitation guided by a physical therapist or occupational therapist after your procedure can assist in your physical recovery, as well as help you cope with new lifestyle and emotional changes you may experience. Our supportive team of therapists provide education, active instruction, community resources, and coping skills to help you get back to your daily life.
Rehabilitation with a physical or occupational therapist may include any of the following treatments based on your unique needs:
Wound/skin care: education on post-surgical skin care, scar management, and hands on manual techniques.
Guided exercises: education and instruction for specialized exercises you can do at home to improve range of motion, strength, posture and use of your arm to return to function.
Pain management: the use of modalities and teaching strategies to manage arm pain.
Swelling management: guided engagement with mobility exercises, and hands-on treatment to reduce swelling post-operatively.
Daily functioning: instruction in specialized self-care techniques, adaptive equipment recommendations, active support with adjustment to new roles or routines, assistance with fatigue management, and conditioning for return to work.
Some patients may need only one visit to learn about management of symptoms or development of a written home plan, while others may need more extensive care. The timeline for therapy is based on your specific needs and goals. To assist with your optimal post-surgery recovery, your first therapy consultation will be set up at the time of pre-admission testing with several locations available for your convenience:
Nurse Navigation
Our nurse navigator, Melody Joice, provides women with support on their breast health journeys and serves as the touchstone throughout their continuum of care. If you receive an abnormal result on your mammogram screening, Melody steps in to offer education that empowers you to confidently participate in decisions about your treatment, offers resources to overcome treatment barriers, and helps facilitate your coordination of care.
Midlife Care
Women experience unique health challenges at different stages in their lives. Our midlife care for women is focused on menopause, post-menopause, hormone changes, bone health, and pelvic health. Our OB/GYN specialists are dedicated to providing high-quality care that addresses your concerns to help you maintain a healthy lifestyle at every age. Below are some of the specialized services that we offer.
DEXA Scan
A DEXA (bone density test) scanner uses beams of very low-energy radiation to determine the density of the bone. The test is painless, safe, and is typically covered by insurance. If your provider deems this test necessary, they will work with central scheduling to make an appointment for you. We have DEXA scanners at Bucyrus, Galion, and Ontario Hospitals, as well as Dr. Tyler Huggins OB/GYN office in Galion.
Osteoporosis Clinic
Osteoporosis causes bones to become weak and brittle. The bones can become so brittle there is risk of fracture, even with mild stress, such as coughing. Osteoporosis occurs when the creation of new bone cannot keep up with the loss of old bone. Our clinic helps patients modify risk factors for bone loss and falls. Talk to your primary care provider if you think the osteoporosis clinic may be right for you.
Pelvic Health
The pelvic floor is a sling of muscles, ligaments, and tissue that helps support the bladder, bowel, and uterus in women. It helps you maintain your bladder and bowel control and also helps with sexual function. As you age, your pelvic floor changes, especially as you experience hormone changes during menopause. Other contributing factors include childbirth, heavy lifting or straining, obesity, congenitally weak connective tissue, and prior surgery. Commonly treated pelvic health conditions include urinary or fecal incontinence and pelvic organ prolapse. If you are experiencing pelvic health issues, you shouldn't delay treatment. Our OB/GYN specialists are experts at caring for your personal health issues with understanding and compassion.
Urinary Incontinence Surgery
Dr. Tyler Huggins performs sling surgery for women who experience urinary stress incontinence, such as urinating when coughing, sneezing, laughing, jumping, or lifting. During sling surgery, Dr. Huggins uses tissue or synthetic mesh to create a "sling" to support the urethra and neck of the bladder. This extra support helps prevent urine leaks.
Urodynamics
Urodynamics is a series of diagnostic tests that evaluate the function of the bladder and urethra. These tests may be recommended if you have urinary incontinence (leakage of urine), recurrent bladder infections, slow or weak urinary stream, incomplete bladder emptying or frequent urination. These tests provide important information for your physician to accurately diagnose and treat your bladder problems.
Patient Stories
Rachel
In the early hours on January 15, 2023, Rachel K. found herself with extreme abdominal pain and unable to take a deep breath. Being 38 weeks pregnant, and with previous birth complications, she knew she was at a high risk for a uterine rupture. She called 911, and with their insistence, Springfield EMS delivered her to the OB unit at Avita Ontario Hospital.
Rachel recalls her experience after arriving at the hospital: "My husband met me in the ambulance bay, and we were taken back to the OB triage room where I met Jenni Russel. At this point, all I could do was scream and writhe in pain. All I could do was get out my name, birthdate, that I was 38 weeks pregnant, and I was at high risk for a uterine rupture."
Rachel remarked that nurse Jenni remained calm and soon nurses Lauren Shaffner and Ashley Malchiodi entered the room.
"It wasn't long after that I began to externally hemorrhage, and fetal heart tones were 65. Everyone in that room knew the emergent state me and Nora were in. I knew I needed surgery soon, and I didn't think our baby was going to make it. The girls all remained calm and just when I didn't think I could take much more pain, Dr. Michael Subit entered the doorway and flagged for them to head to the OR."
At that moment, Rachel looked at nurse Lauren and she told her, "You have to save my baby."
They rolled Rachel down the hallway and into the operating room where she met CRNA James Beebout. "His calm voice and demeanor were the last things I knew before I was put under general anesthesia." She also remembered the assistance of the scrub tech, Lynn Caudell.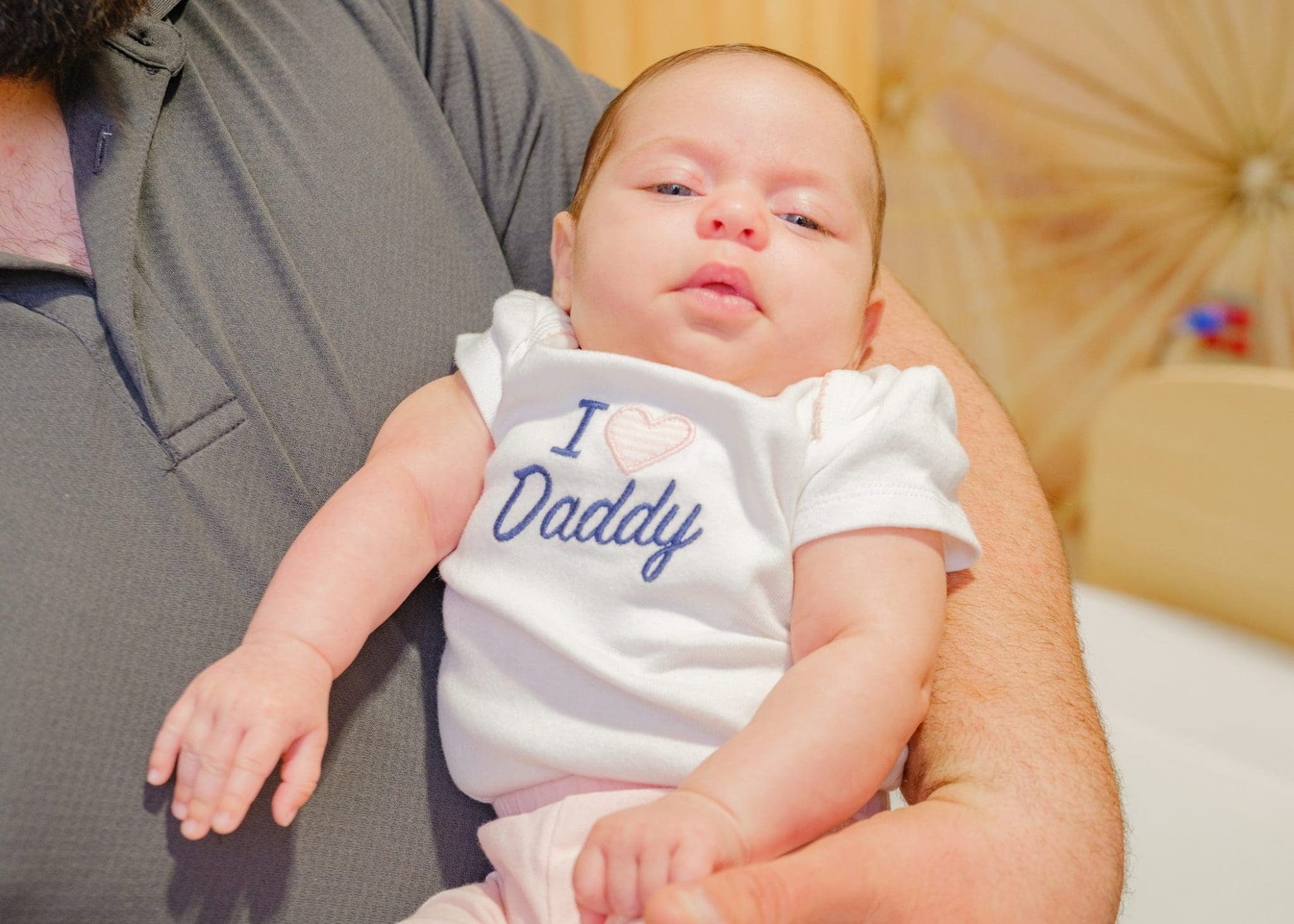 Rachel had a complete uterine rupture and the placenta had completely detached from the uterus. "Nora was free-floating in my abdominal cavity and was lodged under my ribs. Dr. Subit and my nurse Jenni delivered Nora and then worked on repairing my uterus and stabilizing me."
Nora was born with a heart rate of 25 and was given to nurse Lauren who proceeded to fully resuscitate her. "With her diligence Nora survived. Looking back on that day brings so many emotions and I will forever be indebted to this team for saving our lives. I will forever remember Dr. Subit making sure that we got a family picture of all three of us before Nora was taken to Akron Children's. I will forever remember the additional nurses that cared for me as I was recovering. Especially Hilary Brown who encouraged me with pumping and maintained endless positivity. Their love and encouragement helped heal the trauma that had just occurred."
Rachel is so grateful for the team that saved her and baby Nora. "If it were not for this team we both would have died. It was their timeliness and emergent response to the situation that made the difference. Nora and I have both fully recovered without any complications. Nora is completely healthy and suffered no brain injury. They truly are life savers."