Orthopedics at Avita
Our orthopedic team is the largest in the region – treating over 10,000 patients each year with personalized treatments and expert care. We specialize in the diagnosis and treatment of the musculoskeletal system – bones, joints, tendons, and muscles. This includes musculoskeletal trauma, sports injuries, degenerative diseases, and other related disorders. In addition to providing general orthopedic care, our team of surgeons are board-certified and fellowship-trained to provide sub-specialty care that includes: foot and ankle surgery, joint replacement, sports medicine, and upper extremity surgery (hand, wrist, elbow, and shoulder).
Whether you're an athlete, weekend warrior, or just want to regain your mobility, we have the experts to get you back on your feet and back to doing what you love. Our orthopedic team uses both surgical and non-surgical means to treats a wide-range of musculoskeletal diseases, injuries, and disorders. Some of the common conditions we treat include:
Achilles Tendon Injury
Ankle Sprains / Strains
Arthritis
ACL Reconstruction
Arthroscopic Surgery
Athlete's Foot
Back Pain
Bone Spurs
Bone Fractures
Bunions
Bursitis
Carpal Tunnel
Club Foot
Compartment Syndrome
Concussions
Curly Toes
Diabetic Neuropathy
Epicondylitis
Flat Feet
Frozen Shoulder
Ganglion Cysts
Gout
Hammertoes
Hand Surgery
Hip Replacement
Joint Pain/Swelling
Joint Replacement
Jumper's Knee
Knee Replacement
Ligament Injury
Meniscus Tear
Muscle Strain
Neck Pain
Osteoarthritis
Plantar Fasciitis
Revision Joint Replacement
Rotator Cuff Repair
Runner's Knee
Shin Splints
Shoulder Instability
Sports Medicine
Stress Fractures
Tarsal Tunnel Syndrome
Tendonitis
Tendon Repair
Tennis Elbow
Toe Walking
Trigger Finger
Joint Replacement & Revision
The Avita Joint Replacement program is more than surgery. When you undergo joint replacement or revision, we offer concierge services and an exclusive, educational experience called "Joint Camp." Hosted by a dedicated orthopedic staff, Joint Camp is designed to educate you and your support persons as to the expectations and routines of your upcoming surgery and hospital stay. You are invited to tour the facility and attend a luncheon, which allows you the opportunity to meet other patients embarking on the same journey.
Joint replacement surgery is often recommended for patients who have debilitating pain and lack of mobility as a result of joint trauma or advanced joint disease, such as rheumatoid arthritis or osteoarthritis. It is a surgical procedure performed by an orthopedic surgeon that involves removing damaged or diseased parts of the joint and replacing it with artificial parts. Our joint replacement team specializes in hip, knee, and shoulder replacements, as well as revisions to prior replacements.
Hip Replacement
Hip Replacement, also called hip arthroplasty, involves surgically removing the hip joint and inserting an artificial hip joint. You may be a candidate for hip replacement if you experience chronic hip or groin pain and stiffness in the hip that interferes with daily activities. We offer two types of hip replacements – standard hip replacement and the anterior hip replacement. Anterior hip replacement differs from standard hip replacement because the incision is made on the front of the hip instead of the back. This approach is less invasive, but it is not right for everyone. Your orthopedic surgeon will recommend the method that is right for you.
Shoulder Replacement
Shoulder replacement, also called shoulder arthroplasty, is a surgery that involves replacing the joint in the shoulder with a prostatic implant. The surgeon opens up the shoulder and insets the ball, socket, and stem components. Some of the top reasons to get a shoulder replacement include advanced arthritis, torn rotator cuff, and serious shoulder injuries, such as broken bones. If you experience chronic pain and loss of motion or weakness in the shoulder, you may be a candidate for shoulder replacement.
Knee Replacement
Knee replacement, also known as knee arthroplasty, is one of the most common bone surgeries in the United States. It requires the physician to remove the damaged knee joint and replace it with an artificial joint. Osteoarthritis, which causes the breakdown of cartilage, is the most common disease that leads to total knee replacement. Chronic pain, difficulty walking, aches, and stiffness in the knee are all signs that you may benefit from knee replacement.
Joint Revision
A joint revision is performed to replace an artificial joint that is no longer effective. A revision surgery is often needed when the artificial joint has worn-out, become infected, unstable, was positioned poorly, or causes pain to the patient. A revision can significantly reduce or eliminate the pain you may be experiencing from a failing or old implant and can help you regain normal mobility.
Patient Stories
Debbie
Debbie put off her knee replacements for many years as she was caring for her aging parents. Her knees were bone-on-bone, painful, and it was difficult for her to walk. On a retirement trip, Debbie felt bad that she couldn't walk far or climb stairs. That's when she decided it was time to seek help.
Debbie remembered hearing a radio commercial for Dr. Scott Foster and recalled him stating he treats his patients like he would his own grandma. Debbie had Dr. Foster's grandmother as a history teacher at Lexington schools, and she was an A+ teacher, so she thought, "this is the surgeon for me."
Debbie made an appointment with Dr. Foster and thought he was very personable, and his entire staff was welcoming and treated her like family. "The staff are all so friendly, always greeting you with a smile," she said. "Dr. Foster's program and the Joint Camp are amazing. You go and learn all about what is going to happen, and his nurse Jane, who's been with him since he started, demonstrates everything. They explain everything in layman's terms, so it's easy to understand."
In November 2020, Debbie arrived at Ontario Hospital to have her right knee replacement surgery. "When you have your surgery, they insert this thin line into the knee cavity, which is attached to a bag of medicine (an ON-Q ball). It is not an addictive pain medication. It's just a numbing agent, like when you have a tooth filled. You use it for a week and it gets you through the hardest part after surgery," explained Debbie.
Her experience was top notch and she really appreciated the rose that Dr. Foster and his staff sent to her room after surgery. Debbie was able to walk out of the hospital and go home the same day.
Just five months later, Dr. Foster also replaced her left knee. Debbie currently has zero knee pain. She no longer has trouble walking and can stand up straight without assistance. As an usher at her church, she can now proudly walk down the aisle without her husband's help.
Based on her experience at Avita Health System, Debbie believes that Dr. Foster's program runs like a well-oiled machine and was happy she could stay close to home. "That was a big thing, the convenience. He's just down the road," said Debbie. "I'd give my experience an A+!"
Ted
Ted T. questioned whether he would ever be able to walk again after sustaining multiple traumatic knee injuries in September of 2017. The injuries were so severe that Avita orthopedic surgeon, Dr. Kyle Randall, was called in to perform an emergency surgery to reconstruct both knees. This was the first of two major surgeries performed by Dr. Randall, in which he spent hours in the operating room meticulously reconstructing Ted's tendons.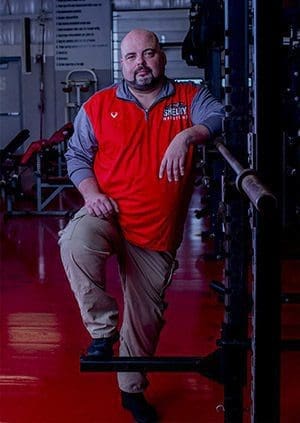 Avita plastic and reconstructive surgeon, Dr. Walter Bodjanac, was then given the daunting task of performing a series of skin grafts combined with synthetic graft alternatives to cover exposed tendon. "Other experts said there was only a 10% chance that the grafting would work, but Dr. Bodjanac believed that he could regrow the skin with a state-of-the-art procedure, and he ended up beating the odds," explained Ted T.
"From the physicians to the nurses to the therapists, the care and support that I received at Avita was overwhelming. I'm proud to say that Dr. Randall and Dr. Bodjanac saved my knees."