Published: October 02, 2019
Eating Better, Eating Together
The month of October has been designated as "Eat Better, Eat Together" month. Eating together as a family provides meals that are more nutritious. Children who regularly eat meals with their families are less likely to snack on unhealthy foods, and more likely to choose fruits, vegetables, nuts, and whole grains. They also do better in school and potentially have fewer behavioral issues. Besides having healthier meals, eating as a family provides opportunities for children and parents to reconnect. We are missing out on the important social, physical, and emotional benefits that can be gained from eating together. When is the last time you sat down and had a meal as a family? Maybe now is the time to start having family meals and continuing the tradition throughout the year!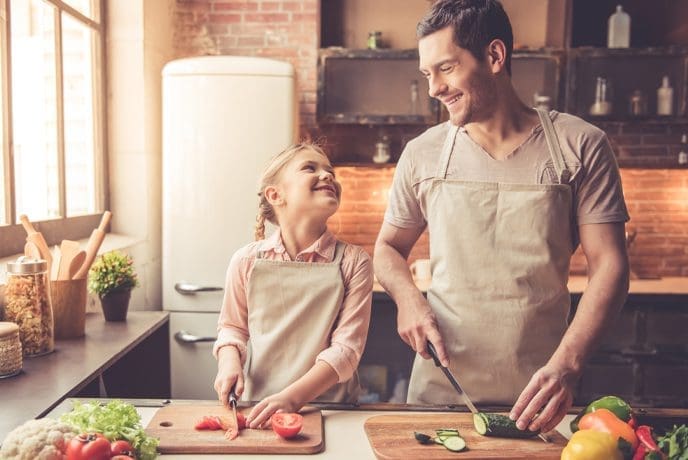 Tips on Having More Family Meals
Schedule the Time

Schedule family time: do this by looking at everyone's calendar. Choose a time that will work for all.
Start by scheduling a meal one time a week to make it routine. From here start by adding more days to the work.
Try to add breakfast before the kids head to school. Dinner time is not the only meal of the day.

Meal Prep in Advance

Make a list of what you have on hand and add to that list if necessary by making the time to go to the grocery store
Make a menu for the week. Try doing some prep work on a designated day for meals later in the week.
Do not have to make complicated meals at home, easy sometimes is the best homemade meal.

Involve the Family

Having children set the table, pour beverages, or even help with some food prep based on their age as well as supervision
Older children/teenagers can put together ingredients for a salad, mix it and put on plate/bowls. Maybe have your teenager be the cook for a designated family night.
Anytime we can make a family meal time, do so by making it a pleasant experience. Keep things positive and encourage the conversation.
Here is hoping you get the opportunity for some quality family meal time.