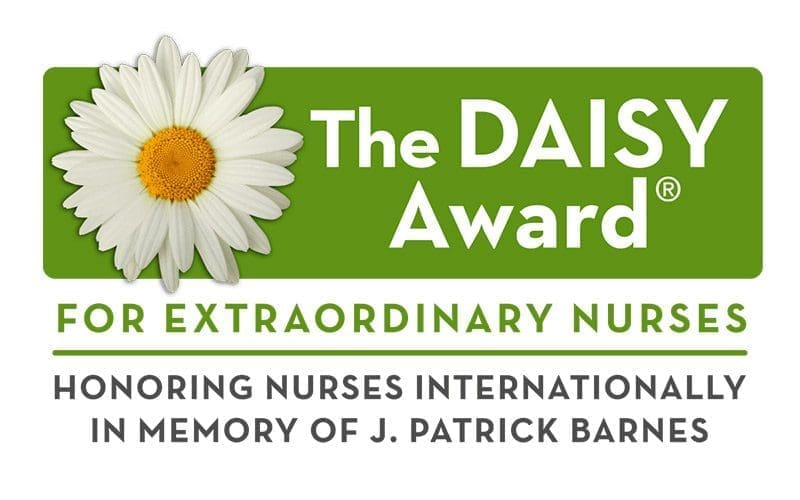 May 12, 2022
Three Nurses Receive DAISY Award at Avita Health System
BUCYRUS/GALION/ONTARIO – May 12, 2022 – Three registered nurses at Avita Health System are being honored with The DAISY Award for Extraordinary Nurses®. The award is part of The DAISY Foundation's mission to recognize nurses for the extraordinary, compassionate care they provide patients and families every day.
The 2022 DAISY Award recipients are Mary Antijas of Bucyrus Hospital, Danyelle Brammer of Galion Hospital, and Katelyn Schwert of Ontario Hospital. These three registered nurses (RN) go above and beyond to make a meaningful difference in the lives of many people.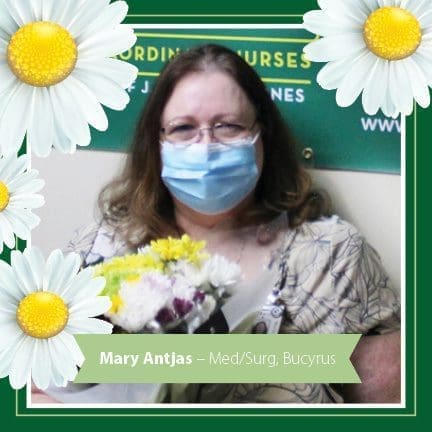 Mary Antijas, RN works in the Medical Surgical Unit at Bucyrus Hospital. She was nominated for being "significant in ways that are beyond the medical textbooks and protocols. She was very professional, caring, genuine, honest, skilled, and made me feel like we were important and she made us her priority no matter how busy it was." Mary provided physical and emotional support, including "expert nursing care" and helped the family "sort through many tough decisions."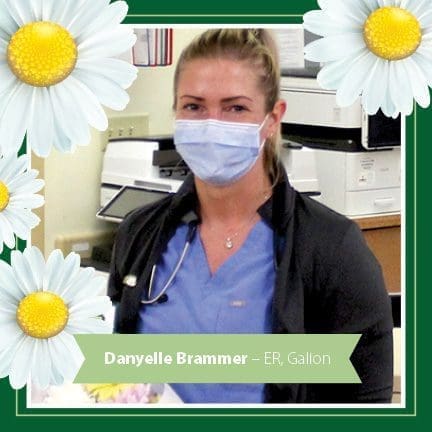 Danyelle Brammer, RN serves patients in the Emergency Department at Galion Hospital. She was nominated for her attentiveness, cheerful attitude, and dedication to patient care. "Danyelle's dedication was over the top. I know that we were not her only patients that night, but her attentiveness made us feel like we were. Whenever my husband cried out in pain, I went to find her and she was always Johnny-on-the-spot with whatever was needed." Danyelle even stalled the "move to a room upstairs just 5 minutes to allow me to run home and get some things so I could tell [my husband] goodnight before he was admitted. I thank her for personally encouraging me during what was a very difficult night."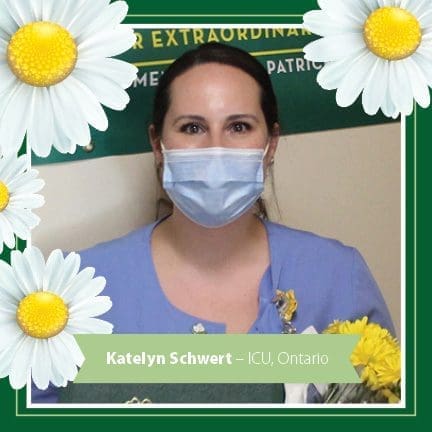 Katelyn Schwert, RN works in the Intensive Care Unit at Ontario Hospital. She was nominated for the impact that she made on a family after the father of 5 children, ages 2-13, passed away from COVID in early December 2021. "Katie took it upon herself to organize an 'adopt the family for Christmas' with her department. Katie organized the entire thing and made sure this family all received gifts at Christmas. This is certainly going above and beyond the call of duty. Additionally, Katie made sure all the families of the patients they cared for in the ICU who experienced death of a loved one from COVID received sympathy cards signed by all the staff. This also was an amazing act of kindness and compassion."
The DAISY Foundation is a not-for-profit organization, established in memory of J. Patrick Barnes, by members of his family. Patrick died at the age of 33 in late 1999 from complications of Idiopathic Thrombocytopenic Purpura (ITP), a little known but not uncommon auto-immune disease. (DAISY is an acronym for Diseases Attacking the Immune System). The care Patrick and his family received from nurses while he was ill inspired this unique means of thanking nurses for making a profound difference in the lives of patients and their families.
Nurses may be nominated by patients, families, and colleagues by filling out a form online or at one of the three Avita hospital locations. The award recipients are anonymously chosen by a committee of Avita employees and community members. There is specific criteria and scoring for each nomination. Awards are presented twice annually at celebrations attended by the honoree's colleagues, patients, and visitors.
At the award ceremonies, Mary, Danyelle, and Katelyn each received a certificate commending them for extraordinary nursing. Each honoree was pinned with a special DAISY Award Pin and presented with a beautiful and meaningful sculpture called A Healer's Touch, which is hand-carved by artists of the Shona Tribe in Zimbabwe.
"The past year was one of the most challenging for healthcare and especially for nurses; however, it was also one of the most rewarding," explained Kathy Durflinger, Chief Nursing Officer at Avita Health System. "The COVID-19 pandemic reconnected us to purpose and passion and reminded us why we became nurses. All of our Avita nurses are among the best; however, these 3 nurses were nominated and selected to receive the prestigious DAISY award. They went above and beyond and connected with their patients in ways that will never be forgotten by those patients or their families. We celebrate and honor their dedication, compassion, and commitment to making a difference in the lives of others. We thank them for their service."