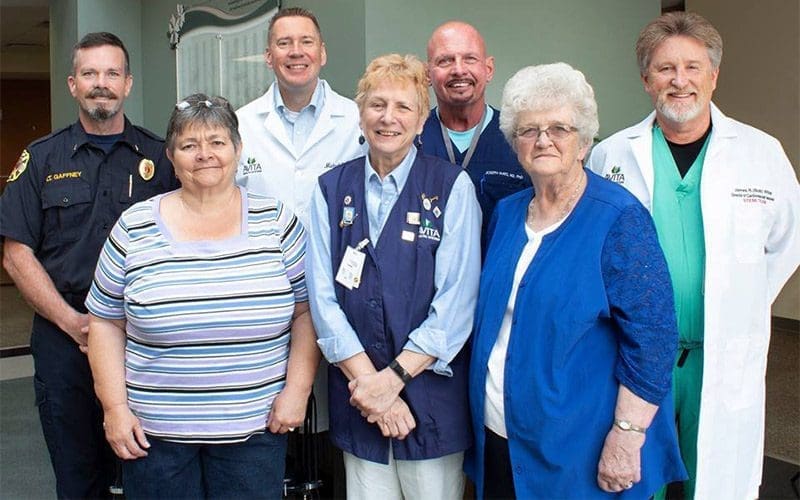 September 11, 2018
Avita Health System Adds New Technology to Improve Heart Attack Patient Outcomes
GALION – Avita Health System has launched a new system to help improve heart attack patient outcomes. The LIFENET System is a premier, web-based data network that allows emergency medical services (EMS) and hospital teams to work together to improve clinical and operational efficiencies by sharing critical patient data in emergent situations.
Avita's use of LIFENET System has the goal of reducing time to treatment, known as door-to-balloon time, for patients in Galion and the surrounding areas who experience a dangerous type of heart attack known as STEMI (ST-segment elevation myocardial infarction). STEMI poses a serious threat to the heart muscle and can result in death or serious disability for the patient. The more quickly patients receive treatment, which may include balloon angioplasty and stent placement in the cardiac catheterization (cath) lab, the more likely they are to have a positive outcome. Door-to-balloon time refers to the interval from patient arrival at the hospital to inflation of the balloon catheter within the patient's blocked artery – the shorter the door-to-balloon time, the greater the chance of survival.
"Studies show that when door-to-balloon time is 90 minutes or less, patient outcomes significantly improve and hospital stays are shorter," explained Dr. Michael Davis, Medical Director for Cath Lab Services at Avita. "The use of pre-hospital 12-lead ECGs plays a key part in reducing this time. Since opening our level II cath lab at Galion Hospital, we have had great success with our local EMS utilizing LIFENET to provide our team with critical data on heart attack patients. Our door-to-balloon time has been consistently below 90 minutes, which exceeds the performance standards established by the American Heart Association and American College of Cardiology."
LIFENET System is designed to connect EMS teams and hospital personnel to help increase workflow so that a patient can receive treatment as quickly as possible. LIFENET enables paramedics in the field to provide hospital care teams with critical patient data so they can quickly identify STEMI patients, determine where to route them for care, and have staff prepared before the patient arrives, reducing time to treatment. This is all securely managed by a web-based system.
EMS crews in the field use a cardiac monitor/defibrillator to obtain a 12-lead ECG. The ECG report is then securely transmitted over the internet. Hospital teams are alerted to incoming information, can view the patient data, share with other care teams, and engage remote clinicians for decision support through a dedicated iPhone application. The ease of communication throughout the care team helps save critical time, especially important when STEMI team activation is indicated.
"The Galion EMS crew has been instrumental in our application of LIFENET," explained Bob White, Director of Cardiovascular Services. "Lt. Jay Gaffney oversaw the implementation of the software at the fire department and worked with his team to integrate the equipment. They now utilize LIFENET to send ECG's while patients are in route to Galion's emergency department. With this technology, we can determine whether patients are having acute heart attacks prior to their arrival at the hospital and we can immediately activate our STEMI team, which saves time, thus improving patient outcomes and the chance of survival."
The LIFENET System was donated to Avita Health System by the Galion Hospital Auxiliary. The cost was $14,070.50 and was gifted as part of a $62,502.50 annual donation to the hospital.