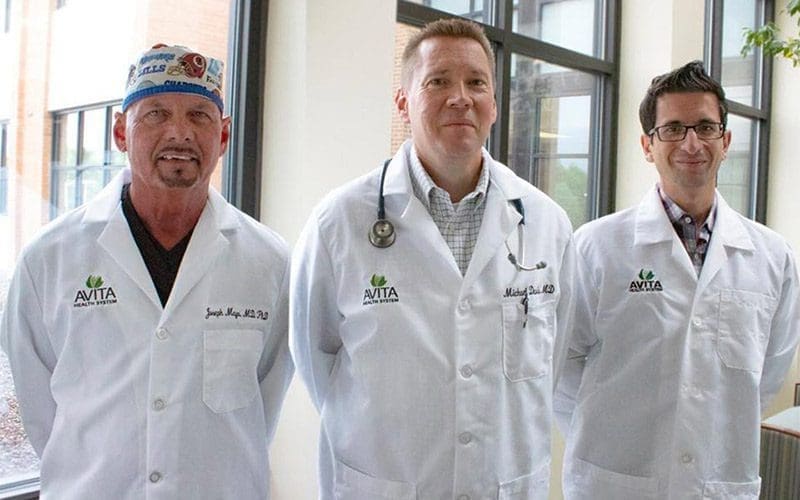 August 23, 2018
Galion Hospital Now Treats Heart Attacks
GALION – Avita Health System's Galion Hospital now has an accredited level II cardiac catheterization laboratory (cath lab). Through this accreditation, Avita's interventional cardiologists can diagnose and treat cardiovascular disease, including heart attacks, 24 hours a day, 7 days a week at Galion Hospital.
"Starting a cardiac interventional cath program was a strategic initiative from Avita's board to provide the best heart attack care," commented Jerry Morasko, President/CEO of Avita Health System. "We hired three interventional cardiologists and invested millions of dollars in our new heart program because we saw a need for this service in the community. Our goal is to provide area patients with great care locally, and we are confident that our ability to treat cardiac emergencies at Galion Hospital will save lives."
According to the Centers for Disease Control and Prevention (CDC), heart disease is the leading cause of death for both men and women in the United States. Every year, about 790,000 Americans have a heart attack or one every 40 seconds. The chances of surviving a heart attack increase significantly when emergency treatment begins quickly. The more time that passes without treatment, the greater the damage to the heart and the higher the likelihood of death.
"A heart attack occurs when there is an acute blockage in one or more of the coronary arteries which cause a reduction of blood flow to the heart muscle," explained Dr. Michael Davis, Interventional Cardiologist and Medical Director of Cath Lab Services at Avita. "If the blood supply is not restored in a timely fashion, heart muscle dies and the risk of death is high. Numerous clinical studies have shown that the quicker the blood flow is restored, there is less chance of death and reduced long-term disability."
Understanding the warnings signs of a heart attack is important. Symptoms include chest pain, shortness of breath, pain or discomfort in the upper body, nausea, lightheadedness, and cold sweats. Individuals experiencing these symptoms should seek emergency medical care as quickly as possible. Patients who seek heart attack treatment at Galion Hospital will be cared for by a 24/7 heart attack alert team that is specially trained to perform cardiac interventions.
"Heart attacks change the lives of patients and families forever," explained Bob White, Director of Cardiovascular Services at Avita. "The faster the treatment, the higher the likelihood of survival. At Galion Hospital, we utilize cutting-edge technology to treat sudden heart attacks and coronary artery disease, right here in this community."