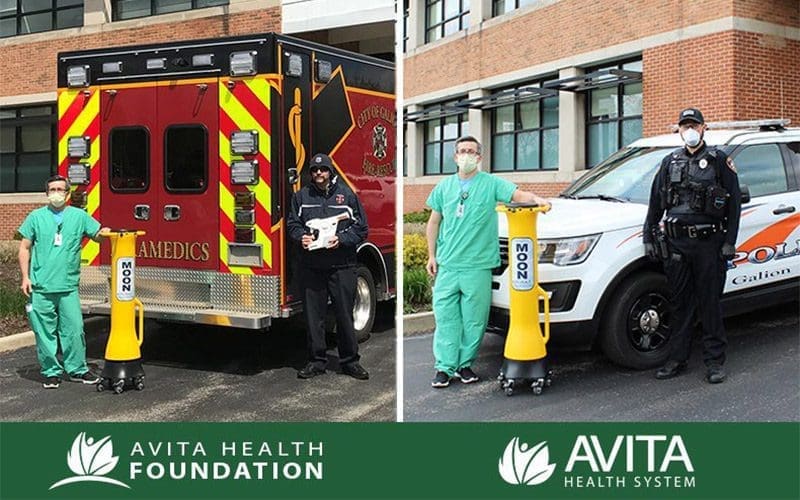 May 20, 2020
Avita Uses Innovative Technology to Protect the Community
BUCYRUS/GALION/ONTARIO – Avita Health System adds an innovative process to disinfect and sanitize public safety vehicles and PPE in Bucyrus, Galion, and Ontario. This advanced technology, the Moonbeam™3, is an ultraviolet light that kills viral and bacterial pathogens to prevent the spread of illness.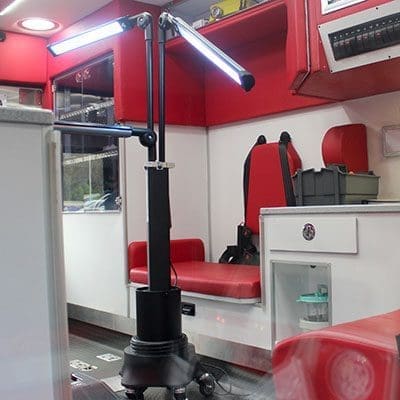 "The Moonbeam3 is lightweight and mobile, so our team can easily move it around the hospital and transport it to sites where disinfecting and sanitizing measures are needed," explained Nick Cline, EMS Coordinator in Avita Health System.
The ultraviolet rays from the Moonbeam3 can clean personal protective equipment (PPE), patient rooms, surgical suites, and vehicles, such as an ambulance, in less than 10 minutes. During patient use or transport, individuals can shed infectious microorganisms that can be transferred to subsequent patients or front line workers. The Moonbeam3 helps prevent the spread of disease by killing pathogens on highly-touched surfaces.
Funding directed to the Avita Health Foundation from Mayor Thomas O'Leary of Galion helped the Avita Crisis Response Team purchase additional PPE and ultraviolet ray machines to disinfect and sterilize PPE that was in limited supply.
"We want to keep our physicians, nurses, and clinical staff safe as they care for patients in the community, especially during the pandemic. We consider our local EMS, Fire and Police part of the same team and want to provide them with this same safe, effective and efficient technology" said Jerome Morasko, President/CEO of Avita Health System.
In April 2020, Avita Health System and the Avita Health Foundation launched an initiative to seek support for the Avita Crisis Response Fund. There were concerns about a shortage of PPE and the additional expenses that were being incurred while preparing for a possible surge of COVID-19 patients. Community leaders were quick to respond and support this fund to help those on the front line, citing that physicians, nurses and first responders are heroes.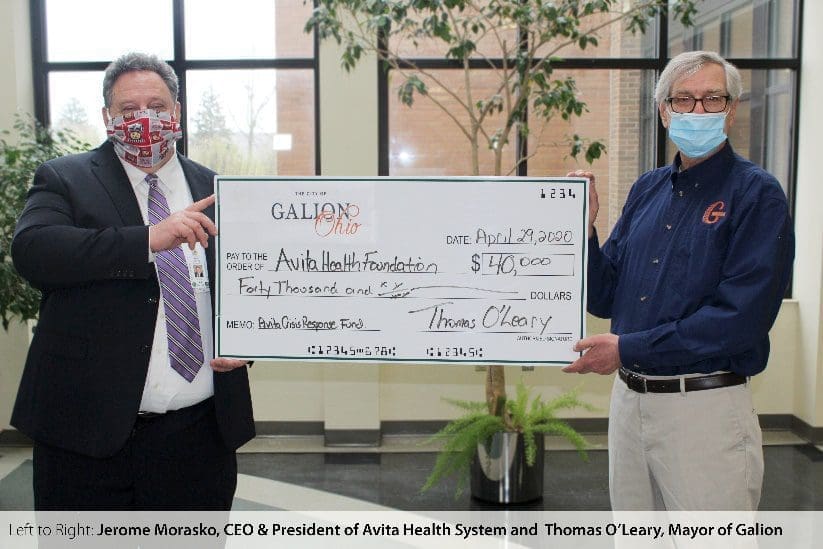 The City of Galion and Mayor Thomas O'Leary worked closely with Avita Health Foundation, supporting an effort to secure critical funding from local corporations, foundations, and granting agencies to support Avita's crisis response initiatives, including local EMS, Fire and Police.
For more than a century, it has been the hospitals mission to provide health care to the communities. Now, during the COVID-19 outbreak, Avita is grateful and humbled by the outpouring of support from the community.
"We offer a huge 'THANK YOU' to all who have made generous donations to the hospital. Avita Health System is proud to be YOUR community hospital," added Chuck Cangelosi, Director of the Avita Health Foundation.
Since the initiative took off, Avita Health System Board of Directors, Avita Health Foundation Board, Avita employees, local companies, foundations, and granting agencies have committed more than $200,000 to the cause. The granting and philanthropic response has been overwhelming according to Avita Health Foundation. Major contributions and grants to the Avita Crisis Response Fund came from:
Bayer, Jerger & Underwood
City of Galion
Community Foundation for Crawford County
Covert Manufacturing
Eagle Crusher
Firelands Federal Credit Union
First Federal Bank of Ohio
Freese Foundation
Galion Building & Loan Bank
Galion Community Foundation
Ohio Mutual Insurance Group
Richland Bank, Division of The Park National Bank
Richland County Foundation
Robert and Esther Black Family Foundation Fund
United Bank, Division of The Park National Bank
In these unprecedented times, Avita Health System is using the generous contributions to support education and community outreach, in the purchase of equipment, gowns, gloves, face masks, N95 masks, shields and other supplies needed to effectively tool front line physicians, nurses and clinical staff with necessary inventory to triage and treat those who are infected with COVID-19, patients who present with symptoms, and others who seek care.
Morasko added, "It's amazing to see how supportive people and organizations from our community have been. Our first responders and hospital employees are real heroes and the community has rallied behind them. We're all in this together."