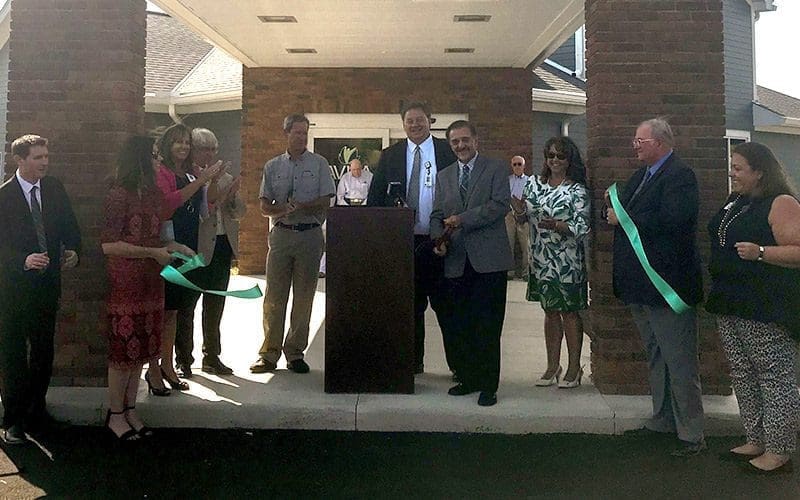 August 09, 2018
Avita Bellville Ribbon Cutting and Open House
BELLVILLE – Avita Health System celebrated the completion of their newest medical facility, Avita Bellville, with a ribbon cutting and open house on Thursday evening. The clinic will officially open its doors for patients on Monday, Aug 13 at 8:00am.
Avita Bellville, located just off of 1-71 at 987 St. Rt. 97 W, will feature a Walk-In Clinic for urgent care, as well as physician offices. The Walk-In Clinic will be open from 8:00am-8:00pm, 7 days a week. It will provide treatment for non-life-threatening injuries and illnesses that need to be addressed promptly, such as; colds, sprains or strains, fever, rashes, cough, cuts or scrapes, minor burns, allergies, and eye irritations. The physician offices will initially provide specialty care for orthopedics, sports medicine, cardiology, general surgery, and urology.
Avita Bellville is a 5,775 sq. ft. facility that features 11 exam rooms, including 2 procedure rooms and on-site x-ray. The facility is part of the original financing from the United States Department of Agriculture, which also funded Ontario Hospital. Avita worked on the project with architect Dan Seckel from The Seckel Group, LTD, a Mansfield-based company, and general contractor Mike Obringer of Studer-Obringer, Inc. in New Washington. Local companies were utilized for the entirety of the project, and construction lasted approximately 10 months.
"Avita is governed by people who live locally so our model is to bring healthcare services close to home," explained Jerome Morasko, President/CEO of Avita Health System. "Bellville has been without local healthcare services and we were approached by community leaders to bring these services to the area. This new clinic exemplifies Avita's commitment to the communities where we live and serve."
For more information on Avita Bellville, call 567-560-3790.