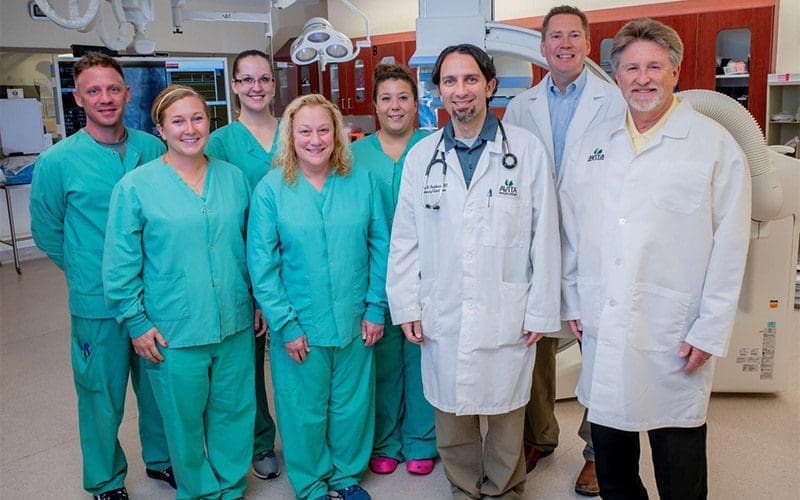 June 18, 2018
New Option for Treating Pulmonary Embolisms
GALION – Avita Health System is now among a select number of healthcare systems in North Central Ohio with the capabilities and clinical expertise to treat submassive pulmonary embolisms with EKOS™ Acoustic Pulse Thrombosis treatment.
Led by Interventional Cardiologist Dr. Michael Davis, along with Pulmonary and Critical Care Specialist Dr. James D. Heddleson, Avita has assembled a multidisciplinary pulmonary embolism response team (PERT) to provide rapid evaluation, risk stratification, and management recommendations for pulmonary embolism patients. Those at significant risk are chosen for the new minimally invasive EKOS™ treatment, designed to deliver thrombus-dissolving medicine directly into the blood clot within the circulatory system from the heart to the lungs through a special catheter that disperses high-energy ultrasound acoustic waves that help facilitate the clearing of the clot.
"With early detection and treatment of submassive pulmonary embolisms, this procedure will not only save lives but patients will have less long-term disability from this catastrophic disease," explained Dr. Michael Davis, Medical Director of Cath Lab Services at Avita Health System.
A pulmonary embolism often occurs when a blog clot travels from the leg to the pulmonary arteries in the lungs, thus causing a blockage to the artery. The clot blocks blood flow to the lung and can be life-threatening. Each year, up to 600,000 cases of pulmonary embolism occur in the United States, with a 20-30% patient mortality rate within one month of the incident.
"I am excited that we, at Avita, can now offer a new tool in our multidisciplinary approach to treating ill patients who suffer life-threatening pulmonary embolisms," revealed Dr. James D. Heddleson, Medical Director of Inpatient Services. "Having the ability to reduce clot burdens by using EKOS™ in the pulmonary circulatory system will significantly benefit patient recovery and lessen potential long-term effects of the blood clot."