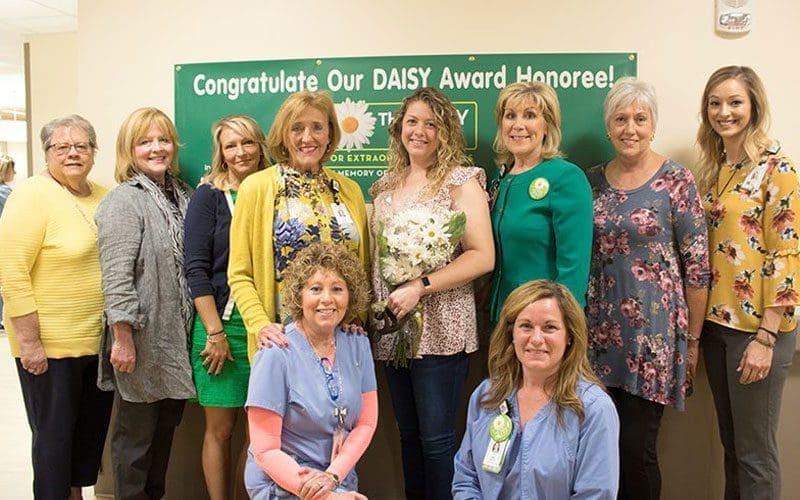 May 31, 2018
Extraordinary Nurses Recognized at Avita Health System
BUCYRUS/GALION/ONTARIO – Three registered nurses at Avita Health System are being honored with The DAISY Award for Extraordinary Nurses®. The award is part of the DAISY Foundation's mission to recognize nurses for the extraordinary, compassionate care they provide patients and families every day.
The DAISY Award recipients are Mary Kay Murphy of Galion Hospital, Shawnda Hahler of Bucyrus Hospital, and Ruby Broeske of Ontario Hospital. These nurses go above and beyond to make a meaningful difference in the lives of so many people.
With 35+ years of experience as a registered nurse at Galion Hospital, Ms. Murphy was described as the "Matriarch of the medical-surgical unit and a shining star. She goes above and beyond to help everyone and makes a difference in every patient's life. She is an amazing nurse and a huge patient advocate."
As a new registered nursing graduate, Ms. Hahler started serving patients at Avita less than two years ago. In the nomination, it was said that she always "goes out of her way to help patients and co-workers. My daughter will be in nursing school in the fall and I hope she is just like Shawnda."
Ms. Broeske, an ICU registered nurse, was referred to as "My Angel Nurse. She is so kind and put me at ease so I knew I could ask questions and she took the time to explain them to me."
The DAISY Foundation is a not-for-profit organization, established in memory of J. Patrick Barnes, by members of his family. Patrick died at the age of 33 in late 1999 from complications of Idiopathic Thrombocytopenic Purpura (ITP), a little known but not uncommon auto-immune disease. (DAISY is an acronym for Diseases Attacking the Immune System). The care Patrick and his family received from nurses while he was ill inspired this unique means of thanking nurses for making a profound difference in the lives of patients and their families.
Said Bonnie Barnes, FAAN, President and Co-Founder of The DAISY Foundation, "When Patrick was critically ill, our family experienced first-hand the remarkable skill and care nurses provide patients every day and night. Yet these unsung heroes are seldom recognized for the super-human, extraordinary, compassionate work they do. The kind of work the nurses at Avita Health System are called on to do every day epitomizes the purpose of The DAISY Award."
Nurses may be nominated by patients, families, and colleagues by filling out a form online, at avitahealth.org, or at one of the three Avita hospital locations. The award recipients are anonymously chosen by a committee of Avita employees and community members. There is specific criteria and scoring for each nomination. Awards are presented twice annually at celebrations attended by the honoree's colleagues, patients, and visitors.
At the award ceremonies, Ms. Murphy, Ms. Hahler, and Ms. Broeske each received a certificate commending them for extraordinary nursing. Each honoree was pinned with a special DAISY Award Pin by Kay McDonald, member of the Board of Directors for Avita. They also received a beautiful and meaningful sculpture called A Healer's Touch, hand-carved by artists of the Shona Tribe in Zimbabwe.
"We are proud to be among the healthcare organizations participating in The DAISY Award program," declared Chief Nursing Officer Kathy Durflinger. "Nurses are heroes every day. It's important that our nurses know their work is highly valued, and The DAISY Foundation provides a way for us to do that."