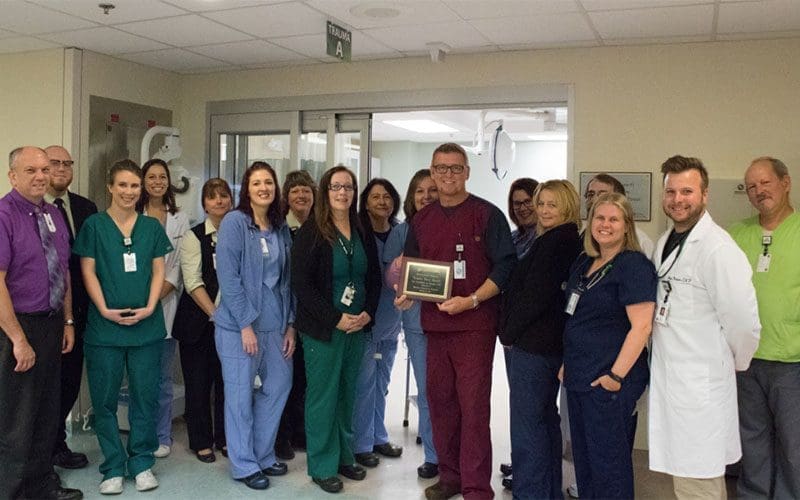 November 10, 2017
Bucyrus Hospital ER Wins Trauma Award
BUCYRUS – Bucyrus Hospital's Emergency Department was recently presented the "Golden Hour Award" for Excellence in Trauma Care by Grant Medical Center.
"It's a great honor to be recognized for the timely, attentive, and skillful care that we provide trauma patients in our emergency department," commented Marie McKenna, Bucyrus Hospital Emergency Department Manager. "Receiving this prestigious award is a reflection of the dedicated, expert staff who work here. We could not be more proud."
The award was presented by Dr. Shay O'Mara, Chief of Trauma and Acute Care Surgery at Ohio Health and Stacey Wickham, RN to Avita representatives: Katie Spellman, RN, Ashley Scherger, RN, and Marie McKenna, RN, on October 18 at the 2017 Trauma Conference at the Hilton at Easton.
Bucyrus Hospital received the "Golden Hour Award" for the outstanding service and stabilization of a patient who experienced trauma due to a serious fall in April 2017. In the health industry, the "golden hour" refers to the sixty minutes following an accident or injury in which the chances of survival are most likely if treated appropriately by healthcare professionals.
"Oftentimes people don't realize what emergency department staff deal with on a daily basis," explained Kathy Durflinger, Chief Nursing Officer at Avita Health System. "They have to be ready 24/7 to handle whatever medical emergency comes through the door. It takes specially trained nurses who possess outstanding clinical skills. I am extremely proud of our Bucyrus team and this recognition."