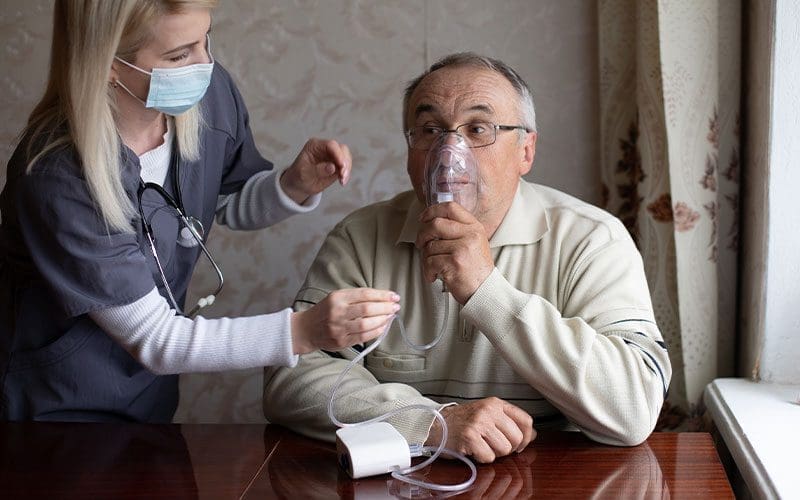 Published: October 29, 2018
Pulmonary Rehab
Pulmonary rehabilitation is a program designed for patients with lung problems. The program includes exercise classes and education about your lung disease. Pulmonary rehabilitation may help you participate in activities with less shortness of breath, as well as teach you how to "live" more easily with lung disease. All phases of pulmonary rehabilitation require a physician's order. The rehabilitation staff will assist patients in obtaining a physician's order.
Who Needs Pulmonary Rehab?
Pulmonary rehabilitation is designed to help patients who experience lung problems, such as chronic obstructive pulmonary disease (COPD), emphysema, chronic bronchitis, bronchiectasis, sarcoidosis, pulmonary hypertension, pulmonary fibrosis, interstitial lung disease, lung cancer or after lung cancer surgery, pre- or post-lung transplant, etc.
How Will Pulmonary Rehabilitation Help Me?
The goals of participating in pulmonary rehabilitation are to decrease the symptoms of your disease or condition and to become better able to function in your daily life, increase your ability to exercise, and decrease symptoms and better manage anxiety an depression that often accompanies the pulmonary disease.
Phases of Pulmonary Rehabilitation
Phase I
Your care during your hospital stay
May include education and limited exercise coordinated by your care team
Phase II
Outpatient – meets three times weekly
May last up to 12 weeks
Includes closely supervised exercise
Individual and group instruction on managing your disease
Partial or full insurance coverage by many insurance plans
Phase III/IV or Maintenance Pulmonary Rehabilitation
Outpatient – meets up to three times weekly
Alternative to home exercise
Continued emphasis on disease management
Self-pay in most cases
Pulmonary Rehabilitation Department Hours of Operation
The pulmonary rehabilitation department at Galion is open every Monday, Wednesday, and Friday from 6:00 a.m. until 5:00 p.m.
At Bucyrus Hospital, the pulmonary rehabilitation department is open Monday, Wednesday and Friday from 6:00 a.m. to 4:30 p.m. Tuesday and Thursday, 6:00 a.m. to 2:30 p.m.
What Will Pulmonary Rehabilitation Cost Me?
Most major health insurance plans and Medicare will reimburse part or all of the fees for Phase II pulmonary rehabilitation. Participants are encouraged to contact their health insurance company to inquire about reimbursement. The rehabilitation staff will also assist participants in determining insurance coverage. In most cases, Phase III/IV or maintenance pulmonary rehabilitation is self-pay.
How Do I Enroll in the Pulmonary Rehabilitation Program? 
You may call the pulmonary rehabilitation department at Galion, 419-468-0753 or Bucyrus, 419-563-9317.